ZoCards are Everywhere in Singapore!
I occasionally pick them up, especially those with the pretty graphics, I sometime do rely on these free cards incidentally for information on design.
Spotted this advertising postcard below yesterday at the internet and was quite sad that I do not have this in my huge postcard collection.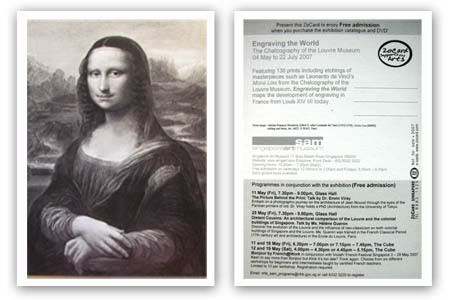 Engraving the World
The Chalcography of the Lourve Museum
04 May to 22 July 2007 @SAM
Discover the techniques of etching on copper plates as a form of print duplication.
If you happen to be in Singapore, do pick up these free postcards (ZoCards) when you see them!
☆☆★☆★☆☆★☆★☆☆★☆★☆☆★☆★☆☆★☆★☆☆
Links to Postcard Collecting
http://www.shilohpostcards.com
http://www.hobbyist.co.uk/postcards
http://en.wikipedia.org/wiki/Postcard
http://en.wikipedia.org/wiki/Deltiology
http://www.atozee.com/web/postcards
☆☆★☆★☆☆★☆★☆☆★☆★☆☆★☆★☆☆★☆★☆☆